Download the report here
In ongoing efforts to protect the public from COVID-19 disinformation, Cyabra continuously analyzes the thousands of conversations taking place across social media regarding COVID-19 vaccines. Following the first report of our vaccine disinformation series, part two of the series contiues to highlight disinformation regarding vaccine side effects as well as campaigns undermining effectiveness of specific vaccines.
Findings
The segmentation of the 390,000 profiles that Cyabra scanned for this report is presented below. Profiles that used negative sentiment text are labeled as "Bad Actors" by Cyabra. Facebook is the social media platform with the highest percent of fake profiles that referenced the COVID-19 vaccine. Facebook also has the highest percent of profiles that used negative sentiment language in referencing the vaccine. However, a greater number of coordinated online campaigns were could be found on Twitter in comparison to Facebook.

Cyabra analyzed the content of both real and fake profiles and detected several tweets discussing the same topic. The tweets refer to a case in Boston where a doctor who took Moderna's vaccine had allergic reactions. Cyabra sampled 1,976 profiles that participated in this discourse, 7% of which are fake profiles. Below are examples of the retweets by fake profiles Cyabra scanned.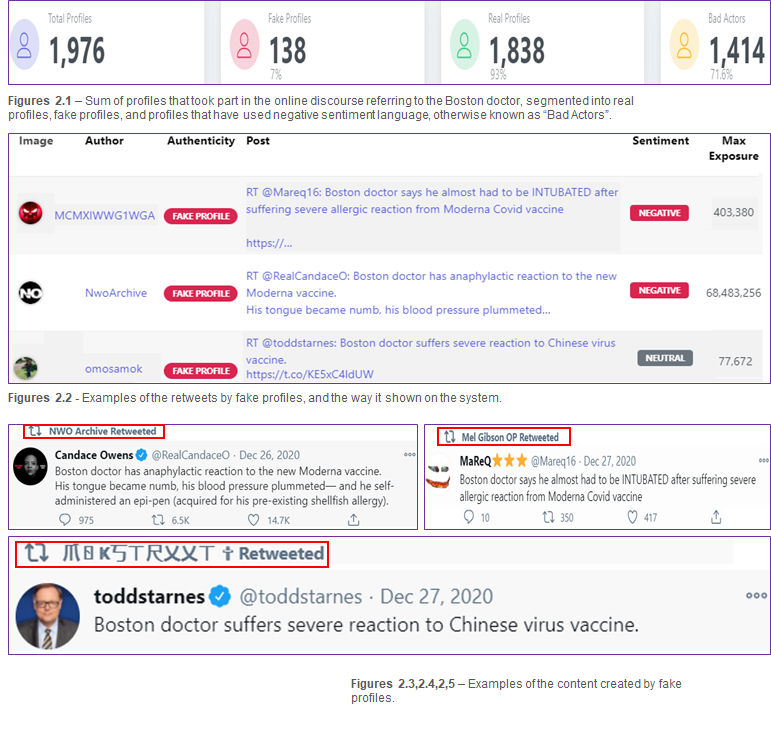 Cyabra also analyzes the connections between real and fake profiles and divides them into communities. Cyabra's "community" function highlights profiles that are highly connected in various forms. Cyabra analyzed the behavior of the scanned profiles and divided them into communities that contain profiles with similar behavior. The division of the profiles is based on many reasons, such as the number of friends and followers, the profile creation date, and the absence of picture profiles.
Cyabra found one community of fake and real profiles with similar behavior tweeting positively about AstraZeneca's vaccine. The community contains 165 profiles, 94% (155 profiles total) within it are fake. The images below show the community of the fake and real profiles spreading positive content about AstraZeneca's vaccine and a few examples of said content.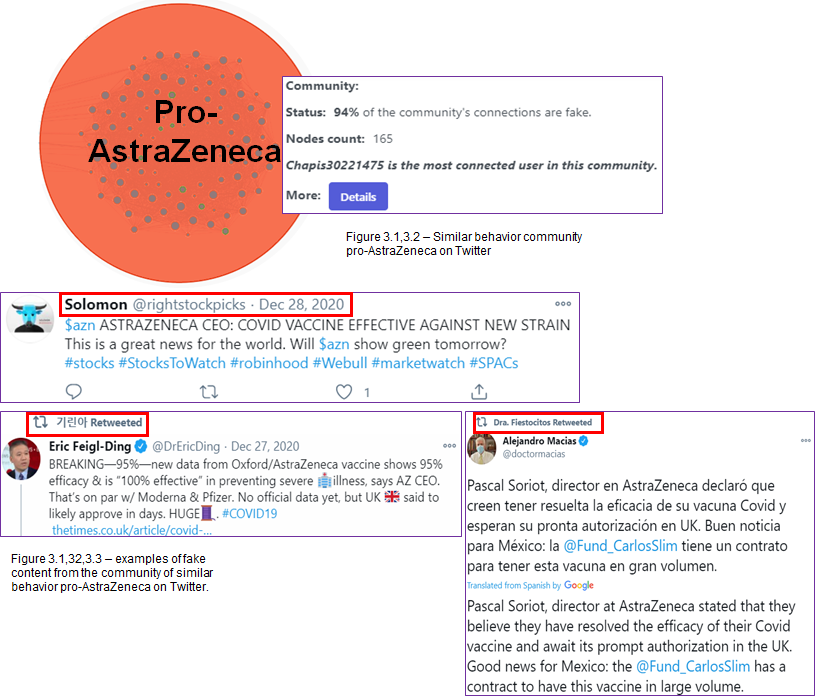 Below is another example of a Cyabra community; this one is based on followers. The profiles inside this community follow each other to a high degree. Often, a community of profiles following each other indicates they are spreading the same message. Most profiles in this community expressed criticism of the Russian vaccine "Sputnik." Cyabra analyzed the connections, behavior, and text of these profiles and discovered many Bad Actors (profiles that used negative sentiment language). The Twitter community contains 647 profiles spreading negative content about Sputnik's vaccine, claiming it's dangerous. Below is an image of the community against Sputnik and examples of content shared by its profiles.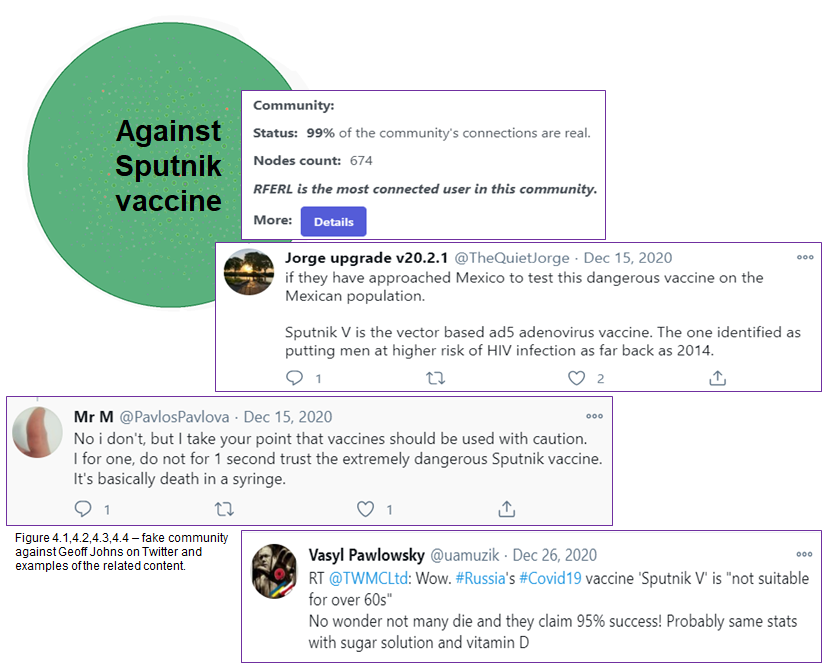 Conclusion
Cyabra continues to monitor the online discourse surrounding the COVID-19 vaccine on several social media networks with its proprietary AI-powered platform. This report is a part of an ongoing effort to map potentially harmful social media orchestrations, and discussed initial results found by Cyabra on Facebook, Twitter, and VK. Cyabra identified over a hundred fake profiles contributing to an online discussion about a Boston doctor who experienced a harsh response to Moderna's vaccine. Additionally, Cyabra also found several interactive online communities using fake profiles to spread their message. One community of fake profiles is spreading claims favorable to AstraZeneca and its COVID vaccine. Another community discussed the possible dangers of the Russian vaccine, "Sputnik." Cyabra will monitor the response to the vaccines rollout on social media on an ongoing basis and pinpoint and report on inauthentic behavior online.