How a Brand's Image can be Destroyed in Seconds
On January 29, makeup influencer Amanda Ensing shared a sponsored video featuring Sephora products on Instagram. What next transpired was a classic example of a brand crisis created within seconds. Within minutes of her posts, social media users discovered previous posts of Ensing's promoting the riots on capital hill. The hashtag #boycottsephora began to trend, with calls for Sephora to denounce Ensing. Upon Sephora doing so, the hashtag #boycottsephora flipped, criticizing Sephora for being anti-conservative, freedom of speech. Christians and Latinos, to name just a few.
What happened here is what we call a snowball effect– when just one post "snowballs" and spreading a message, creating great influence and impact.
Here's what Cyabra unravelled:
Seconds after Ensing's promotional post went live, followers discovered the following tweet in support of the Capitol Riots.
Immediately, calls to boycott Sephora trended with the hashtag #boycottsephora, demanding that the makeup company sever ties with Ensing.
Soon after, Sephora announced that they would no longer be working with Ensing, severing ties with her.
However, the damage was already done, with only more to follow. With Sephora's decision to cut ties with Ensing, her supporters took over the #BoycottSephora hashtag on social media, completely reversing the narrative- this time the company was shamed for being anti-conservatives.
According to Cyabra's analysis, the words most associated with the hashtag #boycottsephora were Maga, Christians and Conservatives.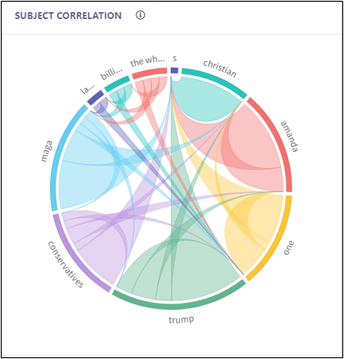 After analyzing influential Instagram personas participating in the conversation, Cyabra identified Emily Sarmo, a fashion blogger, with a 17.2K following. Her post criticized Sephora for anti-freedom of speech sentiment and received nearly 500 likes. Instagram page "Latinos With Trump" was an influential voice as well, calling on followers to boycott Sephora for severing ties with Ensign.
View this post on Instagram
To add more fire to the conversation, real and fake profiles were created just for the sake of this hot topic. An Instagram page titled "F*** Sephora" was created, citing that the company discriminates against Christians and conservatives.
View this post on Instagram
Not only were there calls to boycott Sephora's, but both side of the political aisle called on users to switch to Ulta, one of Sephora's major competitors.
As demonstrated, with one video posted on Instagram, Sephora lost consumers across the political spectrum. Not only was there backlash with right and left followers, but apolitical posts criticized the company for taking sides and limiting the right for people to express their views. As we can see, posts like these snowball at an ever-increasing pace in today's media network, irreversibly destroying brand names.