Did you watch Marie Kundo's show and suddenly felt a desperate need to de-clutter your home? Has watching Tiger King piqued your interest in the safety and health of big cats? Did you watch Bridgerton or Emily in Paris and found your fashion sense evolving to new places? Did Squid Games urge you to pack your life and move to Korea?
While the last story is obviously not a common reaction to watching a Netflix show, it is clear that the huge streaming service that just celebrated 25 years of existence and 10 years of streaming greatly affected not only our watching habits, but also our hobbies, interests, and every-day life. 
The Power of a Netflix Hit
Netflix started out as a DVD library (yes, young readers, shipped by actual snail-mail). Now, 25 years later, it is the top video streaming service in the world, consuming more than 15 percent of the world's internet bandwidth, with over 260 million subscribers in 190 countries.
It is a well-known fact that any new Netflix hit is followed by massive hype, raising public interest in everything even remotely related to the show. But do those trends really dwell in our collective consciousness long enough to change our habits, or is their effect only measured by a week of intensive Google searches? More importantly, how can brands identify the next Netflix trend, respond quickly to a surging public interest, and benefit from free publicity and sales? Our experts at Cyabra analyzed the way the vast power of Netflix affects conversations on social media, and have some fascinating facts to share. 
Cobra Kai Smashing Into Facebook
The Karate Kid sequel Cobra Kai gained moderate popularity in the first three seasons, with the most-watched season being the fourth, which according to Netflix gained 107 million hours of viewing on its second week. 
Cyabra searched for conversations discussing Karate two weeks before and after the fourth season aired (17 December 2021 – 14 January 2022), and found that in the first three days following the fourth season's release, there was a 287.50% increase in related conversations on Facebook. The discourse continued to expand, consistent with Netflix reporting peak viewing of Cobra Kai during its second week. But even after everyone finished binging the show, the interest in Karate didn't die out: by the end of the month, the average increase in conversations regarding Karate was 55.65%, proving once again that Cobra Kai introduced new people into the Japanese martial art. Furthermore, the phrase Cobra Kai was only the second most popular in those Facebook discussions. The most popular word was actually Oss, a term taken directly from Karate.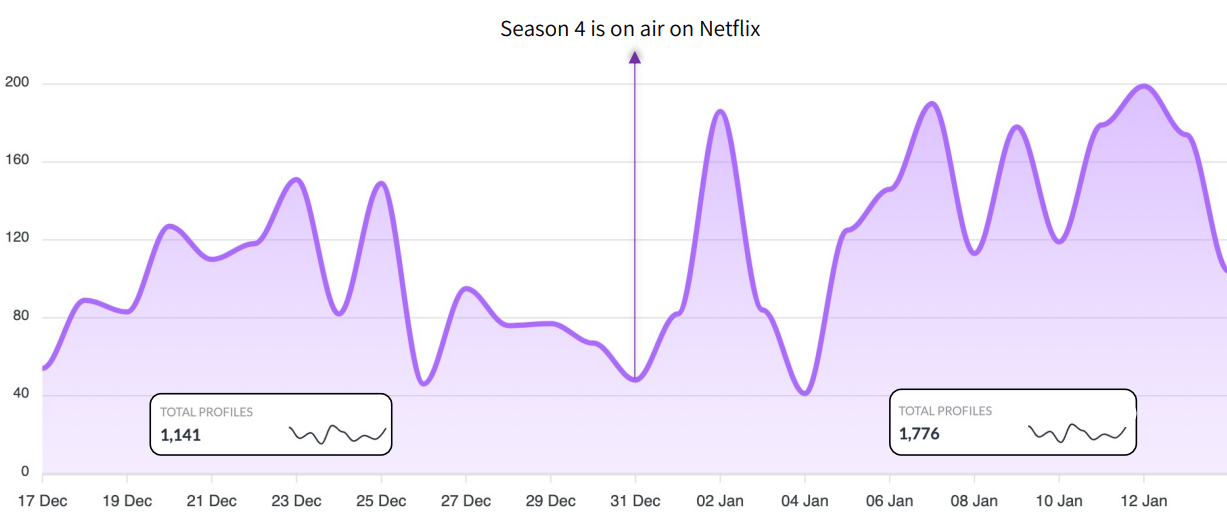 Kate Bush Running up the Charts 
While Stranger Things featured Kate Bush's "Running Up That Hill" all through the fourth season, reporters started joking that the "moderately popular" 80's singer really did make a deal with god, as the lyrics of her song stated. But when the forgotten 1985 song kept climbing the charts, reaching places it never even dreamed of seeing in its original glory days, it turned out that sometimes a deal with Netflix is worth even more. 
Among conversations regarding Stranger Things, the song Running Up That Hill was the most discussed topic, with an increase of 535% during the month following the release of the second half of Stranger Things season 4. Most discussions took place in Europe, particularly in the UK and in Germany. 
Kate Bush actually broke a Guinness World Record, being 63 years old when Running Up That Hill climbed to first place on the UK's Singles Chart on June 23, making her the oldest female artist to ever reach that spot. The 37-year-old song charted as the most-streamed song in the world in early June, and now sits in the top five spots of the Billboard Global 200, earning the British singer $2.3 million and counting. 
Leaning on the success of Running Up That Hill and Stranger Things, the music streaming service Spotify didn't settle for enjoying new listenings of an old song, and combined forces with Netflix to create a personalized "Upside-Down" playlist, containing both songs from the show and your own most-listened-to. This, of course, caused Running Up That Hill to gain even higher popularity, and meanwhile, Gen Z was discovering Kate Bush, listening to her wide repertoire and falling in love with her strangeness.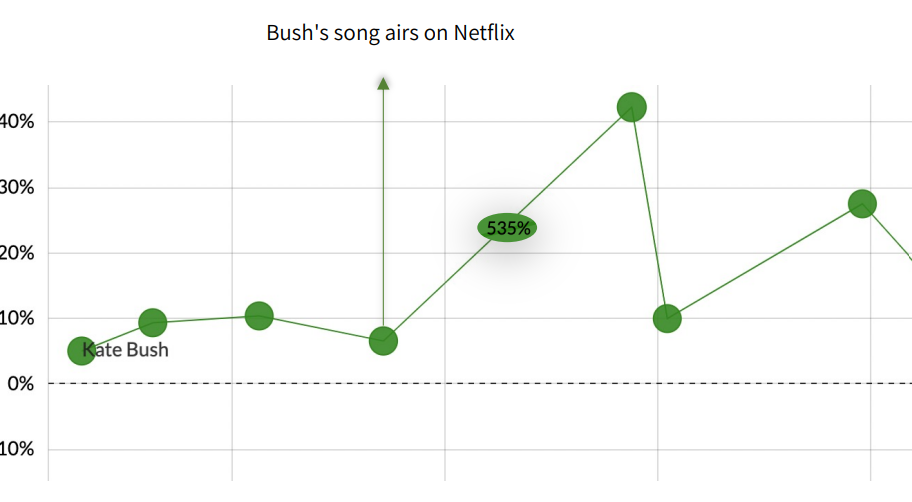 Beaten in Chess by Beth Harmon
A brand doesn't have to be as big as Spotify to make profit off the ripples of the Netflix Effect. A month of analysis before and after the release of The Queen's Gambit proves the interest in Chess has transcended beyond the tale of Beth Harmon. Netflix itself reported that The Queen's Gambit caused an increase of 125% in chess board sales, and social discourse showed support of that claim. Cyabra identified an increase in use of the words "chess" and "learn" together, and an in-depth content analysis discovered that only 35% of the most popular hashtags regarding "chess" were related directly to The Queen's Gambit. Discussions regarding the show were actually only about a quarter of chess discussions.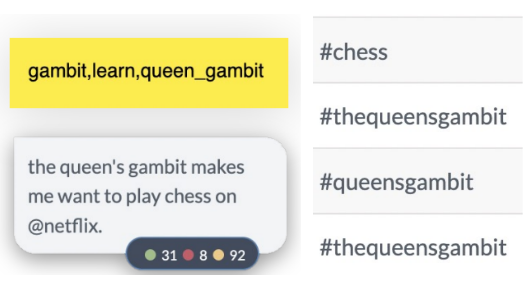 Track the Trend and Make Money for Your Brand
"The Netflix Effect exemplifies the change in consumer behavior. Traditional advertising on linear television is no longer enough to reach the next generation of potential customers.[…] Netflix could now become the next big thing when it comes to marketing." (Imm Cologne Magazine). 
Netflix users are far more likely to buy online than the general population. In 2021, 49.8% of Netflix subscribers stated that they ordered products online at least once a month (while the average in general population is only 34.2%). 20% of Netflix users reported they order online at least once a week. 
Netflix trends create massive opportunities for brands, but the only way to capitalize on them is to keep watch, be alert and follow the snowballs online. By tracking social discourse, online communities, influencers and related keywords, attentive brands could align with the next hit show and create effective campaigns that bask their brands in the sunlight of the newly emerging Netflix trends. 
Read more: