Everyone loves sweet snacks. But how do consumers feel about the companies that make them? 
The chocolatey crunch and creamy filling of an Oreo cookie are irresistible to consumers around the globe—you'd be hard-pressed to find someone who doesn't like Mondelez International's (the company that owns the Oreo brand) tasty snacks. But having delicious products doesn't guarantee consumer love, especially in the competitive snack market. What tickles someone's taste buds one day may not do so the next, especially if the brand gets a bad rap online. 
That's why Cyabra decided to scan and analyze the profiles taking part in conversations about both Mondelez and its competitors—leading snack brands like Nestle, Coca-Cola, and Mars Wrigley—to learn what consumers think of the company and who is winning the taste bud wars in terms of brand reputation. The analysis looked both at the discourse and sentiment around Mondelez and how the strengths and weaknesses of competitors could contribute to Mondelez's brand reputation. 
What are people talking about? 
Mondelez International is a publicly traded global company that includes popular snack brands like Oreo, Cadbury, Milka, and Toblerone. Although the company is only a decade old, many of its brands have legacies that span more than a century, which translates into a lot of brand recognition. 
We discovered that most of the online trends indicate a positive to neutral sentiment around Mondelez, with two peaks of particularly positive sentiment in July 2022. We didn't find any boycotts or overwhelming objections to the products or values ​​represented by the company (possibly because while Mondelez's products are well-known, the name of the company just isn't as memorable as its competitors). The main negative sentiment we detected was related to an old case in which a customer found a piece of a nut in a pack of Cadbury shots.
When do people get the (online) munchies? 
In addition to WHAT people were saying about Mondelez and its competitors, we also looked at WHEN they were saying it. We found that it varied a lot between networks. On Twitter, most of the activity was throughout both day and night on Tuesday, and on Wednesday during the first part of the day. On Facebook, there wasn't much activity during most hours of the week—activity was observed primarily on Tuesday during the day.
Who's talking snacks (and are they for real)?
Inauthentic activity is a major problem that's impacting online discourse on topics from politics to brand recognition. Our system specializes in identifying inauthentic activity, so we examined the phrases and hashtags directly related to Mondelez and identified 150+ inauthentic profiles (9.4%).
The inauthentic profiles were most active on Tuesdays in the late morning and quite a few of the inauthentic profiles had at least as significant an impact as the authentic ones, meaning that they're a force that can't be ignored.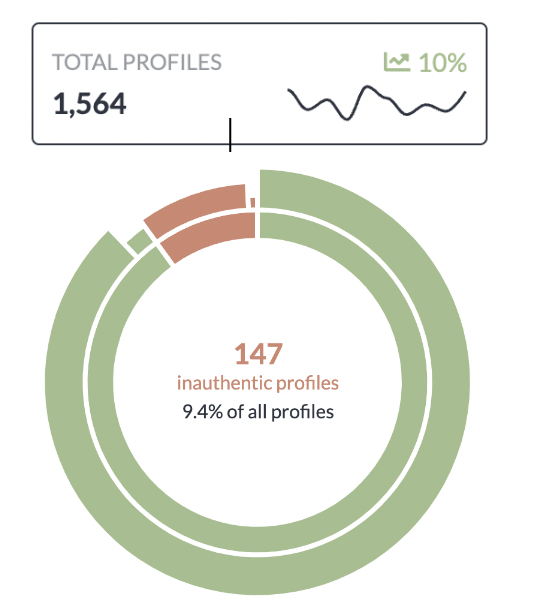 So, how do Oreos and other Mondelez products stack up?
In addition to diving deep into the conversation around Mondelez, Cyabra ​​experts also analyzed the social media discourse on customer concerns for competing brands focusing on product, price, service, and marketing.
The below chart illustrates what we found, with Green=positive, Orange=Neutral, Red=Negative.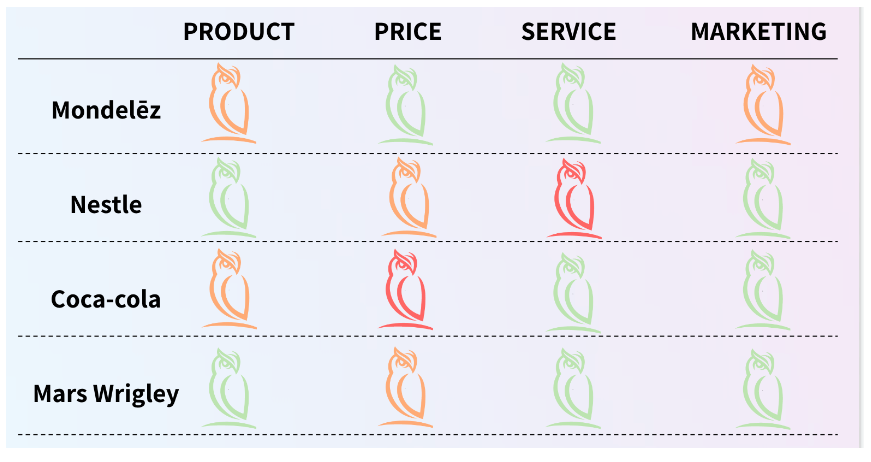 Nestle
Nestle is definitely a force to be reckoned with. We found that many profiles treated the company's products positively—especially their chocolate chip cookies and Nespresso products (and who can blame them?).
Yet it's not all unicorns and rainbows for Nestle. Cyabra's review found complaints about customer service, on both traditional and social networks, often claiming that the company's customer service did not reply to complaints properly. Some profiles weren't happy with Nestle's pricing either and often used cross-product comparisons to prove their point. Nestle also had the highest percentage of inauthentic profiles of all companies evaluated—10% of the profiles involved were found to be inauthentic.
Coca Cola
It's no secret that people love Coke and other Coca-Cola products like Sprite and Schweppes. However, the Cyabra team found that while many profiles liked the company's products, a significant number responded negatively to the inconsistency of subsidiary brands between countries. 
People also weren't happy with the high prices of the company's soft drinks. Cyabra found discourse from consumers who were considering minimizing their purchases due to what they perceived as an unjustified high price.
Mars Wrigley
People love a good Mars bar, and a lot of the positive buzz about this company was taste-related. Like in the other brands, the main negative claim was around price—many profiles claimed that the product is expensive in relation to other candy bars. 

Wrapping it up
Overall, our analysis didn't pick up any major areas of concern for Mondelez, especially when compared to its competitors. Coca-Cola has the highest percentage of negative sentiment, and even Nestle had more negative sentiment than Mondelez. However, across all brands there is a definite focus on pricing, which may be related to consumers' concerns about overall inflation. It's definitely something that snack makers like Mondelez should keep their eye on. 
Comparative research can help brands better understand their consumers. Contact us to find out how Cyabra can assist your brand.