The American far-right extremist organization has been banned from social media following the January 2021 Capitol insurrection, but they're still stirring the deep pot of social.
The Proud Boys (named after a song from the Disney movie Aladdin) are a far-right, neo-fascist, anti-left, anti-socialist, violent, and exclusively male organization. They believe in ending welfare, free guns for everyone, and returning to traditional gender roles. Their initiation process involves reciting: "I'm a proud Western chauvinist, I refuse to apologize for creating the modern world", before being punched by fellow members. They are then required to receive a tattoo, swear to avoid masturbation, and get into fights "for the cause".
Last June, the United States Justice Department charged the group and its leader with a seditious conspiracy regarding the January 6 2021 attack on the Capitol, that was intended to block Congress from certifying the results of the 2020 election. Since the insurrection of Jan. 6, more than 800 individuals have been arrested in nearly all 50 states for crimes related to the breach of the U.S. Capitol, including over 250 individuals charged with assaulting or impeding law enforcement.
The FBI tagged the Proud Boys as an extremist organization, the Southern Poverty Law Center labeled them a hate group, and the Canadian government designated them as a terrorist organization. The group was banned from Facebook, Instagram, Twitter, YouTube and other social networks. But a year later, it seems the Proud Boys are quietly creeping their way back into social media, taking advantage of the current political atmosphere.
A Year of Violent "Protests"
Over the past year (June 2021 to June 2022), Cyabra's team tracked topics related to the Proud Boys by analyzing Twitter profiles and conversations. Cyabra's AI focused on the hashtags #ProudBoy, #ProudOfYourBoy, #FuckAroundFindOut (an expression adopted by the Proud Boys as a threat to those "messing with them"), and on the topics "Proud Western Chauvinist" and "Western Chauvinist". Cyabra identified 7,448 profiles that tweeted, replied and retweeted content relating to the proud boys 9,928 times.
This might not seem like a large number, but considering the fact that the Proud Boys have been publicly banned from Twitter, this number should have been close to zero. Even more worrisome are the spikes in conversations, that correlated with every protest or event the Proud Boys crashed in the past year, whether it was related to their interests or not, claiming they were acting under freedom of speech.
The first spike was seen on August 28, 2021, with over 1,000 new mentions of relevant Proud Boys topics. On this day, the Proud Boys, under the guise of an event they called "Summer of Love", tracked a non-violent quiet protest by 30 ANTIFA (the Anti-Fascist political movement) members. The 200 Proud Boys members waited for the demonstrators to pass by them and started chasing and attacking them with deadly force. Stores and businesses in the area were damaged by gunfire, explosions and even gas-propelled projectiles.
The next spike in conversations took place on October 11, with 405 new mentions of related topics. This was, again, following what should have been a quiet meeting of the Nashua Board of Education in New Hampshire. Local state governments in the area have been under increasing strain as antigovernment activists violently objected to COVID-19 vaccinations, mask mandates, and even federal grants to fight the virus, and have turned traditionally quiet meetings into ugly shouting matches, even after the Proud Boys allegedly stopped coming to those meeting.
The most recent conversation spike occurred last June (2022), with an average increase of 2,633% compared to the previous month. This was, of course, when the Department of Justice announced that the Proud Boys would be facing charges.

The most popular topics, phrases and hashtags in those conversations were Trump, Arrest, FBI, Racist, Coward, Fuck, and #White_Supremacist.
In terms of geolocation, most of the discourse naturally took place in North America, specifically Ohio and California. Minor discourse also took place in Europe, mostly in Denmark, France, Germany, and Britain.
The Proud Boys may have been banned and denounced publicly, but as Cyabra's scan shows, they are still very much active, both on social networks and off the web, spreading hate and mistrust as well as casually using deadly weapons in every event they are present at. Cyabra advises being aware of possible manipulation and disinformation when spending time on social media, checking the facts, and most importantly – keeping yourself and your loved ones safe.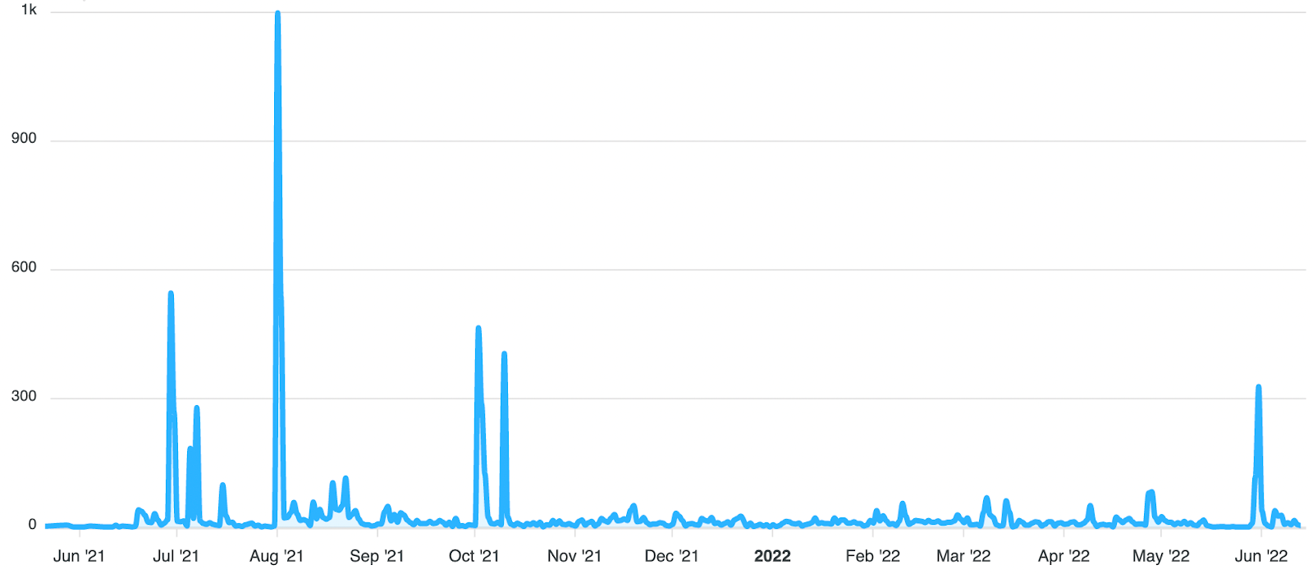 Read More
Leader of Proud Boys and Four Other Members Indicted in Federal Court For Seditious Conspiracy (Justice Dept)
Proud Boys leader Tarrio charged with sedition for role in U.S. Capitol attack (Reuters)