Reporters and news anchors might have expected social media to criticize the Finnish prime minister for drinking and partying on camera. Instead, social debates supported Marin, demonstrating the ever-expanding distance between old and new media.
On August 19, 2022, Americans googled "Sanna Marin" more than they googled Taylor Swift or Britney Spears (according to bloomberg.com). The sudden interest in the prime minister of the small European country was not caused by Finland recently joining NATO, or the growing tension around Finland's border with Russia, or any other major political issues involving the Nordic region. This was also not about any of Prime Minister Marin's political activities, like her commitment to fighting climate change, or her support of refugees, or her welfare policy of closing the gender pay gap and sharing parental leave for new parents. The public fascination – and in some cases, the public scrutiny – regarding Prime Minister Marin was the result of a leaked video in which she was viewed enjoying a private party with her friends, dancing and drinking. 
As pictures of Prime Minister Marin partying started circulating, news sites, shows, anchors and reporters rushed to criticize and condemn the prime minister, pointing out her inexperience and young age of 36 years old as faults, implying she was unfit for her role, and hinting at possible drug use. Prime Minister Marin was pressured to take a drug test (which came back negative), but other than that she stood her ground, refusing to cower in the face of what seemed at first like vast public disapproval. She reasoned that she was doing nothing wrong, and simply enjoying the same things as many other people her age do, and is "going to be exactly the same person as I have been until now, and I hope that it will be accepted."
The Right to Dance 
While Marin's opponents might have expected this story to hit social media and rage like a Helsinki snowstorm, it turned out to be more of a storm in a teacup. As the weeks stretched, social media did not only show significant support for Marin and her arguments but also blamed her critics for misogyny and double standards. A new hashtag, #SolidarityWithSanna, started spreading as women from all over the world posted videos of themselves partying and dancing, and the trend crossed borders and continents, reaching as far as Hillary Clinton, who tweeted her support of Marin. 
As Ann Richards said, "Ginger Rogers did everything that Fred Astaire did. She just did it backwards and in high heels."

Here's me in Cartagena while I was there for a meeting as Secretary of State.

Keep dancing, @marinsanna. pic.twitter.com/btAtUFOcNV

— Hillary Clinton (@HillaryClinton) August 28, 2022
Four days after the incident and the leaking of Marin's photos and video, Cyabra found 14,000 tweets, posts, replies and retweets discussing the topic on Twitter and Facebook, with most of the comments and posts showing a neutral and positive sentiment, and only a 6.1% displaying negative sentiment. The discussion revolved around gender expectation, feminism, woman's body liberation and more. Below is the tweet that was shared the most, as well as some of the most highly engaged tweets. 
"Solidarity with Sanna"

Women in Finland are posting videos of themselves partying while tagging Prime Minister Sanna Marin. pic.twitter.com/Bl1M4r0bky

— Megha Mohan (@meghamohan) August 20, 2022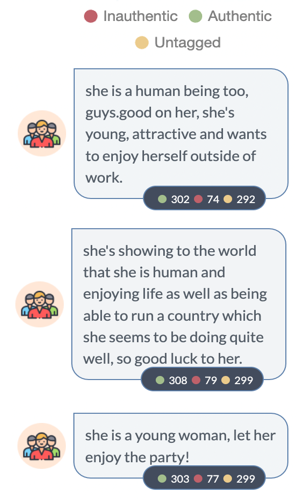 Finland v. the Rest of the World 
With a population of 5.5 Million people, Finland itself was just a small part of the online debates. Most of the interactions took place in Europe, and mainly in the UK, Germany and France. US was also quite active in the debates, although a couple of posts discussing the subject admitted they were only half joking when starting the discussion with "Wait, where exactly is Finland?"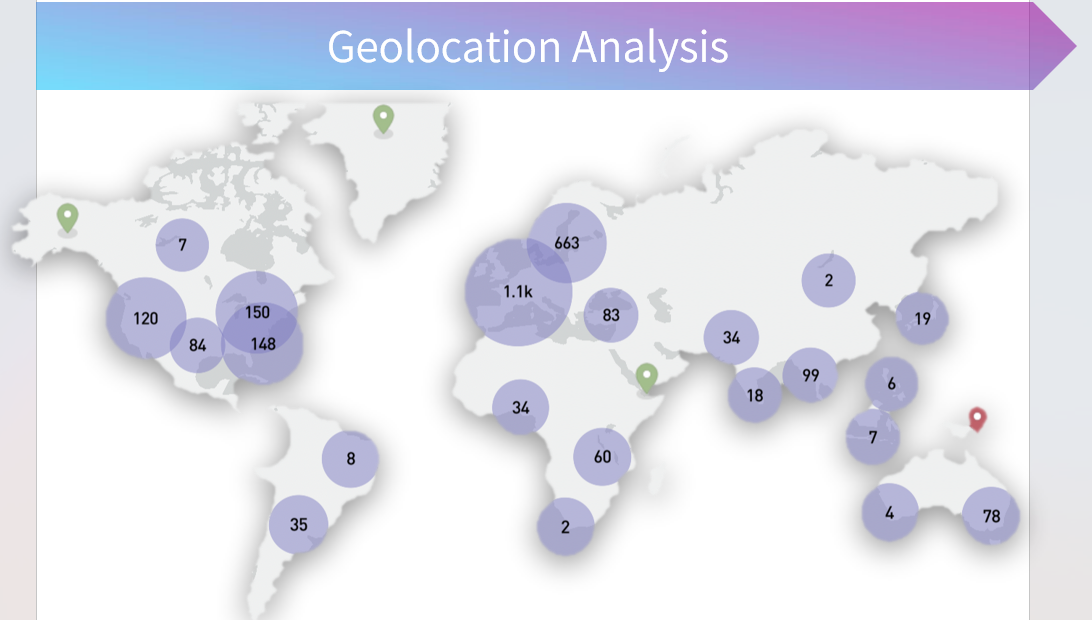 Inauthentic activity in the discussion was 7.7% (which is not particularly high compared to similar events of global interest), and most inauthentic profiles posted conservative, sometimes anti-Western statements. Interestingly, the tweet that most inauthentic profiles retweeted was actually one supporting Marin – possibly because it could have been interpreted as ironic and criticizing. 
Love it! Danish women are posting videos of themselves partying while tagging Finnish Prime Minister Sanna Marin.

To show "Solidarity with Sanna" pic.twitter.com/8gsUTuROLJ

— Very Finnish Problems (@VFinnishProbs) August 20, 2022
#SolidarityWithSanna and the Rise of New Media
In 1960, presidental candidates John F. Kennedy and Richard Nixon participated in the first televised presidential debate in American history. Those who listened to the debate on the radio felt that Nixon has won, while those who watched it were charmed by Kennedy's charismatic presence and looks and felt he gained the upper hand. This debate had a major impact on the election's outcome, and signaled a new era – the era of visual media. Video has, indeed, killed the radio star. But in Prime Minister Marin's case, it was television, newspapers and news sites that proved irrelevant to public opinion. 
For good or bad, new media has become independent, and social conversations display opinions and narratives that frequently differ from those of traditional media. While this independence can occasionally contribute to the spread of disinformation and misinformation, in cases like these it can also raise awareness and opposition to conservative narratives set by traditional media. As time goes by, the abyss between the now-old-media and social media keeps growing, and as new media develops a life of its own, with its own rules and narratives, it echoes the traditional media views and values less and less. 
Read more: 
* World Finance: A new era for Finland
* The Guardian: Finland's prime minister who just wants to be herself
* History.com: The Kennedy-Nixon Debate